The Blue Mountain Peak Trail is the route to Jamaica's highest point, which sits at 2,256 metres (7,401 ft.) The trail covers a distance of 9.3 km (5.8 miles) over steep terrain and is an intense 4-hour hike to the summit.
The Blue Mountain Peak Trail falls within the pristine, primary forest of the national park and UNESCO World Heritage Site. The route is ideal for observing native plants and over 200 bird species; including most of Jamaica's endemic birds including the rare Jamaican Blackbird. There are no large or poisonous animals in the national park.
Above 2,000 metres, as you near the summit, the lush canopy gives way to an elfin forest; where trees and shrubs are stunted and gnarled due to high elevation exposure.
What you will need:
Hiking for trail shoes/sneakers
Liquid refreshment/water
Snacks
Warm Jacket
Raincoat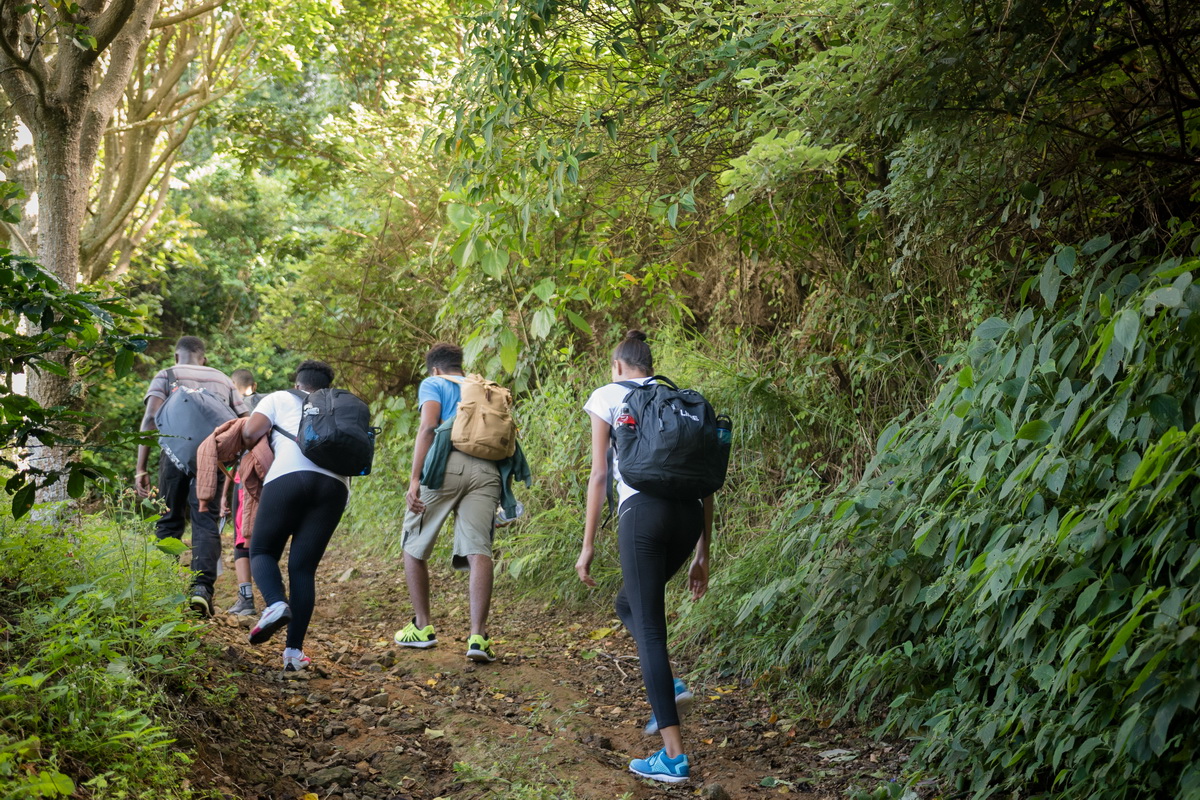 The classic way to experience the hike is to begin the ascent just after midnight to meet the dawn of the new day at the Blue Mountain Peak. Overnighting at Portland Gap allows you a little later start (at about 3:30am). A day trip is also possible if you leave Kingston at 6:00am and this approach allows for more time viewing and experiencing the cloud forest.
Another traditional experience is travelling up to the Trailhead (Jacob's Ladder/Abbey Green) in 4WD Land Rovers - these are old but well maintained Land Rovers owned by local community members and used for transportation of coffee and other produce, Christmas Trees and hikers.
| | | |
| --- | --- | --- |
| Starting Point | Distance | Mode of Travel |
| Papine to Mavis Bank (road) | 17.7 km / 11 miles | Motor Vehicles or Hiking |
| Mavis Bank to Hagley Gap (road) | 7 km / 4.3 miles | Motor Vehicles or Hiking |
| Mavis Bank to Penlyne Castle (trail) | 4.5 km / 2.8 miles | Hiking |
| Hagley Gap to Penlyne Castle (road) | 4 km / 2.5 miles | 4WD Vehicles or Hiking |
| Penlyne Castle to Abbey Green (road) | 3.2 km / 2 miles | 4WD Vehicles or Hiking |
| Abbey Green to Portland Gap (trail) | 3.7 km / 2.3 miles | Hiking |
| Portland Gap to the Peak (trial) | 5.6 km / 3.5 miles | Hiking |
Trail Fee
Residents

J$300.00 per adult; J$100.00 per child

Visitors

US$20.00 per person
N.B.: There are other costs involved, e.g. transportation, accommodation and meals and trail guide
| | | |
| --- | --- | --- |
| Distance: 18.6 km | Time: 7 hours | Difficulty: Challenging |